Tonight ended the 2008 Summer Olympics in China! This year's games were incredible from start to finish! I cannot believe how many world records were broken, and how many amazing athletes have become household names simply because of their drive and their talent!
It has been interesting to think about the games being held in this communist country. I've also been thinking a lot about what this means for missionary work in China. The government was so strict about what could not be discussed by athletes, and visitors: world issues and religion. The still communist government even revoked the visitation visa of U.S. speed skater and Winter Olympic gold medalist Joey Cheek because of his involvement in the humanitarian efforts in
Darfur
! President Bush, however, among pursuing government peace interests, made an effort to discuss allowing religious freedom in China. These Olympic games were also televised, UNCENSORED in China, which has never before happened!
I think about these "small and simple" things, and get so excited that the door to China has been opened. I know that these efforts will bring about the allowance of missionaries to preach in this country, and the gospel will soon be spread to "every nation, kindred, tongue and people."
At the close of the 29
th
Olympiad, I would also like to share a few of my favorite moments from the games (in no particular order):
1. The
"Go World"
Visa Campaign commercials. These were fantastic! Morgan Freeman's narration of each one made them even more compelling. My favorite is the "Michael Phelps is not part dolphin" one! Anyway, watch them:
2. I loved the
Opening Ceremonies
, what a spectacular show China put on. My favorite part however was during the parade when China entered "the Bird's Nest" as it was dubbed.
Yao
Ming carried the flag, and beside him, carrying much smaller flags was Lin
Hao
, a 9-year old hero. Lin
Hao
was a survivor of a devastating 8.0-magnitude earthquake on May 12 that killed over 69,000 people. This little 2
nd
grader, after freeing himself from the rubble of his school building, went back in to save the life of a classmate. When asked why he did it he responded that he was a hall monitor, and it was his job to make sure the others were safe!
3. The story of
Lopez

Lamong
, one of the Lost Boys of the Sudan.
Lamong
is a native of the Sudan in Africa. When he was 6 years old soldiers came into his church and took all the children. The boys were separated from the girls, and taken to a prison camp where they were slowly starved to death. One night
Lamong
and four other children crawled through a hole in a fence and escaped. They ran for three days and after being arrested on the Kenyan border were taken to a refugee camp. He lived in this camp for 10 years, and one day walked 5 miles to watch American Michael Johnson win a race in "the Olympics." He decided he "wanted to be as fast as that man." Soon after he was adopted by a couple in New York City, USA.
Lamong
has only lived in United States for 7 years, and has only been a US citizen for 14 months, but was elected by the majority of US Olympic
Athelets
to carry the American Flag (an honor that requires a longer period of citizenship). He was quoted as saying that in America, dreams really can come true
4. The outfits worn by the American athletes during the opening ceremonies! With the crisp white and blue, Ralph Lauren made them look sharp!
5. Of course
M
ichael

Phelps
! This kid is
the
definition of athlete. At only 23 years old he has done what no other Olympian has ever done. He has won 8 Gold Medals in one Olympiad, giving him 14 Gold medals and 16 total career medals, and therefore has more than any other Olympic athlete in history! Not only has he won Golds, he has broken Olympic and World records in 7 of his 8 swims! However, he couldn't have done this all on his own. He did swim a few team events, and I have to give credit to his team mates: Aaron
Peirsol
, Brendan Hansen and Jason
Lezak
who helped him set the world record for the 4x100-meter Medley relay in 3 minutes and 29.24 seconds! I also have to give credit to Peter
Vanderkaay
, Ricky
Berens
and Ryan
Lochte
for their amazing performance in the 4x200-meter Freestyle relay. And lastly, Garret Weber-Gale, Cullen Jones and again Jason
Lezak
who helped win gold and break a world record in the 4x100-meter Freestyle relay. Congratulations men, this year Men's Swimming was probably the most exciting even of the 2008 Summer Olympics! And PS, Michael Phelps
is
part dolphin.
6. I am so proud of our
Redeem Team
! I love basketball, I played for years, but what never fails to amaze me is how talented these guys are... Most athletes are all about the Benjamin's! It's almost like if they're not getting paid a million dollars to play a game, they won't play. However, it was great to see these men who in their everyday careers are rivals, come tog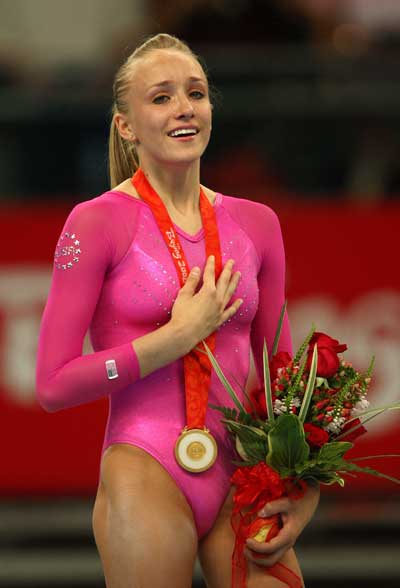 ether and play as a team for our country. I was so excited when they took the Gold medal this year, and moved by Kobe Bryant's comment that "it doesn't matter what name is on the back of the jersey, all that matters are the three letters on the front!"
7.
Nastia
Liukin
and the rest of the USA Women's Gymnastics Team. These girls are incredible! My heart broke for them as they crashed and burned in the qualifying rounds. Their looks of hope and heartache from the sidelines were almost too much to watch. I could see their talent but they just weren't coming through. Two of their star athletes were injured and not able to compete! The girls picked it up, however and made us proud. I loved loved loved watching
Nastia
Liukin
! She made difficult moves look easy and as fluid as ballet dancing! She was so graceful. I'm so glad she took a Gold Medal home! PS I dont mean to sound purvey, but did anyone happen to at least catch a glimpse of these girls' backsides? I'm seriously considering taking up gymnastics so that my bum can look that good in a leotard, or any other article of clothing for that matter!
8. The last bit of the Olympics I got to see was the
Women's Rhythmic Gymnastics
. I was so impressed with China's performance! I could not believe the amount of innovation and creativity that must have been put into the choreography. That alone was amazing, but then to add ropes into the mix? I could not take my eyes of the television.
http://www.nbcolympics.com/video/share.html?videoid=0824_SD_GRW_HL_L1603
9. My final favorite moment was from Men's Track and Field. During the
Men's 400-meter Relay
, everyone was concentrating on
LaShawn
Merritt for beating Jeremy Warner... Not me, my attention went to David Neville of USA. This guy was going to get fourth place, so what does he do?
He dives
across the finish line! They counted it, and he took 3rd!!! Way to go America!