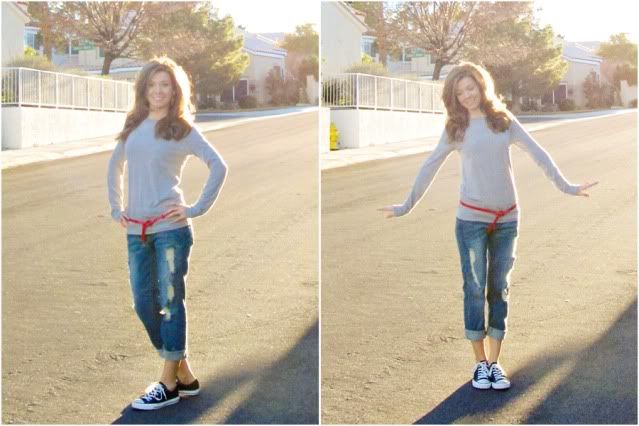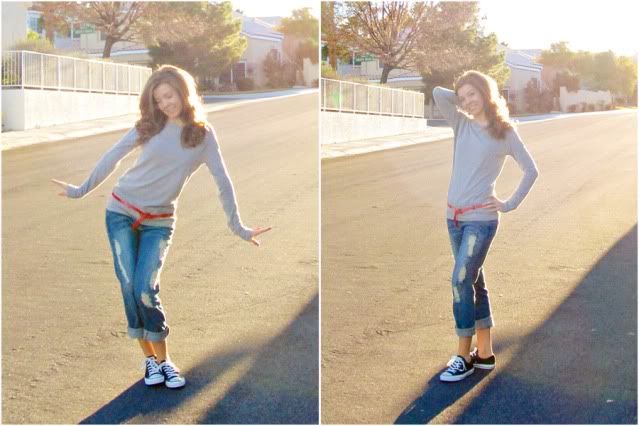 ☀ What a beautiful, sunshine-y day we had today. It is a nice change, from the "holy crap, how come it is so cold in the desert?" weather we've been having.
☀
Originally, I put on
red pants
this morning. They were a little loud, and so I changed, and threw on a red belt instead. My mom thinks they are just "adorable," but I'm not totally convinced. Maybe I'll try again later.
☀
I am wearing zero makeup today. Zero. My skin likes a break on the weekends. Luckily for everyone, these photos are blurry so it's not noticeable. I have been in a fight with my skin since Christmas Day, and I'm loosing. I finally made a dermatologist appointment, I'm too old to be dealing with this.
☀
I love my "chucks." I haven't owned a pair since 7th grade. BF bought some a few weeks ago, and he looked so cute, I decided I needed some too.
☀
Reason #159 why I ♥ Saturdays... I planned on studying for my exam
S
all day but instead I've been enjoying the movie marathon on FX, 27 Dresses, What Happens In Vegas, and Step Brothers.
AMAZING
.
☀
There is a reason for all of the "what-I'm-wearing" type of posts this week. I'm considering doing a
30 for 30 challenge
, and I want to make sure I can do it. Taking photos of myself everyday without a "husband" or someone else to help is proving rather difficult. I'm not sure I could do it every day...
☀
I saw Toy Story 3 last night... everyone made fun of me because I didn't just get teary, I full on cried.