In case it wasn't plastered all over the local news this morning in other areas of the country, I thought I'd be the one to announce it. Yesterday was the drawing for the California State lottery, the California Mega Millions Lottery! Living in Nevada, we don't have a lottery, because we have legalized gambling. Apparently no state can have both because it is unconstitutional. LAME!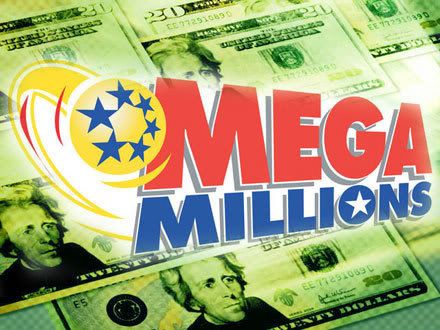 I have gambled once in my life. On my 21st birthday, my parents gave us each $21.00 to put in the Mega Bucks machine, and I won! No joke, I put in my first $3.00 for my one pull, and I won back $4.00! From then on, I never gambled again, I was
up
, and it would stay that way...
Until yesterday, when I received the following e-mail:
From: Josie
Sent: Tuesday, January 04, 2011 4:04 PM
To: Office
Subject: CA Mega Millions - $355,000,000 "The Plan" - UPDATE

UPDATE! 20 people in....now @ 400 tickets.
Ramiro and I will be driving to State line right after work to get the tickets. The total number of people that contributed towards the pot is 19, so we have $380.00 worth of tickets that I'll be getting tonight. We'll drive back and make copies & scan the lotto tix. The draw is tonight @ 8:00 p.m. - which leads me to my next question: If we do not make it in time (I hear that the wait is up to 2 hrs), would you rather I bring each of you your $20 back OR buy the tix for the next drawing (Friday @ 8pm). If someone wins, it reverts back to $20 million (I believe). Let me know!
I decided to contribute. Mostly everyone in the office contributed $20, however, there were a few "nay-sayers." So, yes, two members of our office drove to the Nevada/California state line to purchase tickets, but when they got there it was already 6:00 pm, the drawing was at 8:00 pm, and the ticket line was so long people were waiting for up to four hours before reaching the window! So my fellow co-workers drove to Baker, California instead, and walked right up to the window! They took our money and purchased 400 tickets! Anyway, last night, the winning numbers were drawn: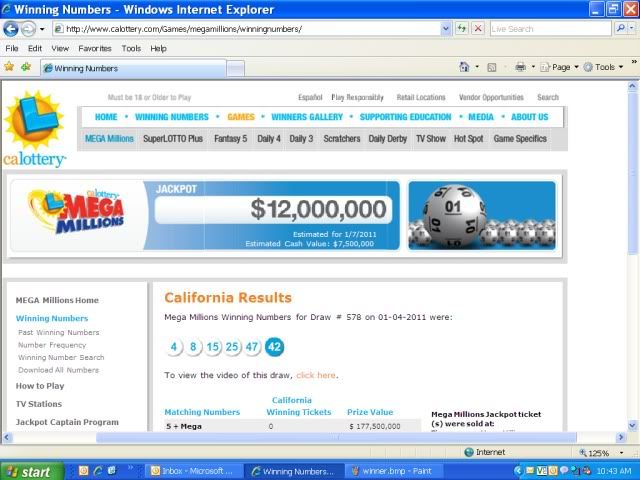 And do you believe it
we won
!!! Do you see how many winning tickets there were? Well, a few of our lucky little tickets paid off... literally!

This morning when I came into work, I had the following e-mail:
From: Josephine M. Vazquez
Sent: Wednesday, January 05, 2011 10:23 AM
To: Office

Subject: Lotto Winnings & Road Trips
We did good! Our total winnings from last night break down to $27.00 each!
It looks like there is a general consensus amongst the office that we do this once a month - preferably the 2nd week. Those that would like to participate will take turns in driving to purchase the tickets. Being that it's not down the street and time is money...I say we all chip in $1 to go towards the driver's fuel. Sound fair?
Oh-em-gee! I won the lottery!

I know it's not a big deal, but hey, I'm $7.00 richer today than I was yesterday! Boo-yah!