On New Year's Eve, I went down to Town Square. It's a somewhat new, outdoor mall just off the Las Vegas strip. I went for the first time last week (yea, I know, what was the hold up), and I was SO impressed because all of my stores are located in one place! Gone are the days of visiting 2+ malls to hit every spot!
One of the best things about Town Square is that there is a free standing Sephora and a MAC Pro store right next to each other! For most people this isnt' a big deal, but for us Las Vegans, visiting one of these stores usually requires Valet Parking, and wandering through a casino to get to one.
Anyway, New Year's Eve was my first physical trip to a MAC store! Normally, I purchase MAC online because I can see the total purchase price as I add things to my cart. Not only does shopping make me feel anxious and overwhelmed, but I'm afraid that in the MAC store, I would go nuts, taking my treasures to the register, have them rung up, and then I would pee my pants or faint & scream when I told the total price...
This trip, I wasn't just buying eyeshadow or lipstick, I was buying face stuff, so I had to go to a store and get color matched. It was a
MADHOUSE
! It didn't even occur to me that women would be flocking in by the dozen to get their makeup done for the New Year's festivities! Luckily, I was able to get everything on my list... Yes, I had a list, and the MAC girl was very grateful, because, "most
girls come in here and just wander around wasting my time
." Hmm, glad I could help you out.
She then had to leave to put makeup on a client, so an older guy finished helping me out. May I just say, I hate sales people that don't listen. I'm on of those people who, when I want something, I want it, end of discussion. I went in to buy MAC
Red
lipstick. I know MAC sells tons of red lipsticks, but I've done my homework, and Red is the one I decided on. It's a bluish toned red (
lipsticks with blue undertones make teeth look whiter, unlike warmer, orange undertones, which make me look ghostly white, and my teeth look like those of a smoker
) and looks dressy, but can be worn everyday.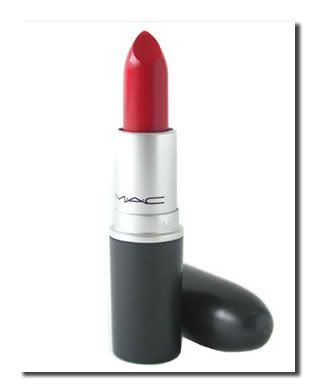 MAC Red
From the start the man kept trying to talk me into buying other red lipsticks. "Well I really like Viva Glam I..." To which I replied, "Yes, it is pretty. However, for me, it is to 'vampy' to be an everyday red; I'll just take
Red
."
He then tried telling me about Ruby Woo (
which was too Pink
), Russian Red (
close, but I didn't want a matte finish
), Viva Glam Cindi (
too sheer, and I have it
), and then the new Pro Long Wear lipcream in Prolong
(too cherry pink/red
)
.
He was
obsessed
with this color, and couldn't stop talking about all the makeup artists there just loved wearing it. I coudn't figure out if they were given a higher commission for selling Pro Long Wear colors, or if they were sold out of
Red
, or if he just wasn't listening. Finally, he told me to try it on, so I did, and I thought it was a nice color, but it just wasn't what I had come to buy. "I'll just take
Red
, thanks." On and on he went about "Pro Long Wear, wonderful, looks great in photos, pin-up girls." So I took matters into my own hands, I swatched every single red lipstick shade on the back of my hand, walked over to BF and asked him which one was his favorite. He picked MAC
Red
! "Well, that does it," I said, "MAC
Red
it is!" Mr. Salesman then proceeded to tell BF all about Pro Long Wear... BF was so annoyed he said, "OK, she'll take it."
Must get better at taking swatch photos...
I stood there, dumbfounded. I don't want it, I want
Red
! I bought it...
defeated
, but determined to just return it later this week.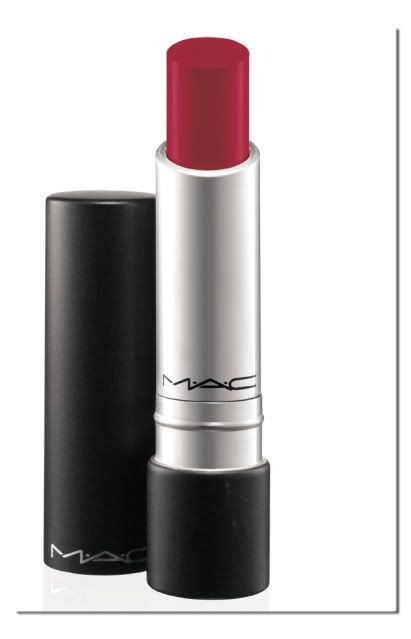 Mac Prolong
Ugh. I hate sales people.
(
In case you've never been, MAC keeps all of their makeup locked up in drawyers/cabinets. They have samples of everything out, so that people can swatch them, but if you want to buy, you have to have a salesperson get it for you.
)