It's Friday
Friday

Friday
! I am so looking forward to a long weekend, so much so that this morning I woke up in a
REALLY
good mood (which rarely happens, at least until I've had some cereal). To celebrate my good mood, I decided that today I was going to be
W
O
N
D
E
R
W
O
M
A
N
!
Partly contributing to my good mood was my hair. Hair? Seriously? Yes! I took a shower last night, but afterwards I was too tired to spend twenty minutes blowing my OMG-it's-beginning-to-reach-Rapunzel-length hair. Growing up, I was always counseled to never go to bed with wet hair, but last night, I cheated. I pulled it into a bun on the top of my head, and dozed off...
When I woke up at 6:30 this morning, I took my hair down, ready to asses the damage. Hopefully a spray bottle would work, so I don't have to take another shower. I beheld, lovely beachy waves! My hair even looked longer and thicker than normal! I beamed from ear to ear as I realized I wouldn't have to restyle my hair today, and jumped back in bed for an extra hour of sleep!
So, after a long, stressful, busy week, and in observance of "casual Friday," I decided to wear my

W

O

N

D

E

R

W

O

M

A

N

t-shirt; and I think it was fate, because when I checked my blog roll this morning, I saw this...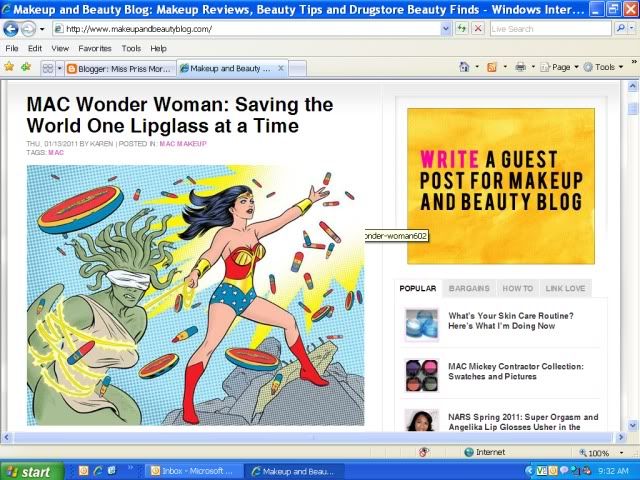 My recent MAC obsession has become, as BF puts it, "a problem." And their Spring 2011 launch is not doing anything to help. While the packaging is a little gimmicky, it is SO cute. The Spring collection (US & Canada launch: February 10, 2011) is supposed to be a shout out to the early 70's when women wore "fresh, natural, sculpted faces with pops of cool colors." While I won't be purchasing everything from this collection, I am excited that some past Limited Edition products are being re-promoted.