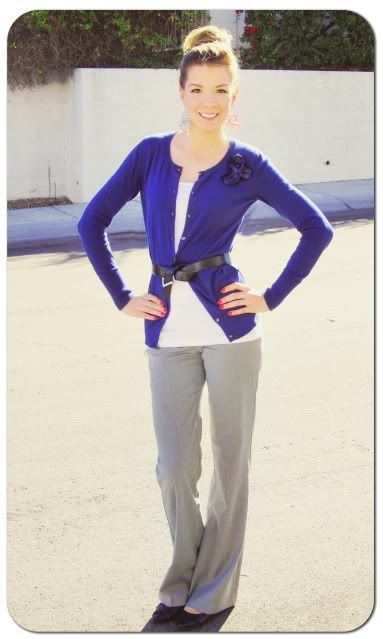 Today I'm wearing:
Gray Trousers
White Tank Top
Blue Cardigan
Black Flats
Black Belt
Today I've eaten:
1 bite of a Dunkin Donut. I don't even like donuts, but had pink frosting and sprinkles... so I had to taste it
2 cup of noodles, beef flavor, delicious
1 Banana
1 giant handfulls of almonds
Today I've drank:
1 bottle of water
1/2 glass instant apple cider
1/2 can of Mountain Dew
1/2 Strawberry Banana Naked Juice
3 Vitiman Waters
Hmm, I've been really trying to eat a little better, so epic fail there, and that Mountain Dew is the first caffeine I've had in almost four months. I've ruined my streak! I don't mind though, today, I really deserved it. I didn't sleep more than three hours last night. Plus, it's only 3:00 pm, I still have time to have a "healthy day."
BF and I joined some work colleagues for sushi last night. I'm always hesitant when it comes to sushi, because first and foremost, I don't like fish. I don't eat fish. Ever. Except for three dishes, namely: (1.) Tuna fish sandwiches (2.) My mom's grilled salmon patties- covered in lemon juice, I might add (3.) Sometimes, and a very rare sometimes, I'll eat Talapia, BF's brother makes a mean breaded/grilled talapia.
Anyway, we went to eat sushi, and I ordered two dishes that I am familiar with and know I can eat, and keep down. Well dinner turned into "family style" and most of my rolls were eaten by others, leaving me to eat whatever else was on the table. I'm guessing there was A CRAP TON of crab in those "leftover" rolls, because I was sick with my head in the toilet most of last night. It began as a small stomach ache, but by 3:00 am, I was fast becoming best friends with the porcelain throne.
This morning, I still didn't feel good, and so I laid in bed until 7:45... did I mention I have to be to work at 8:00am?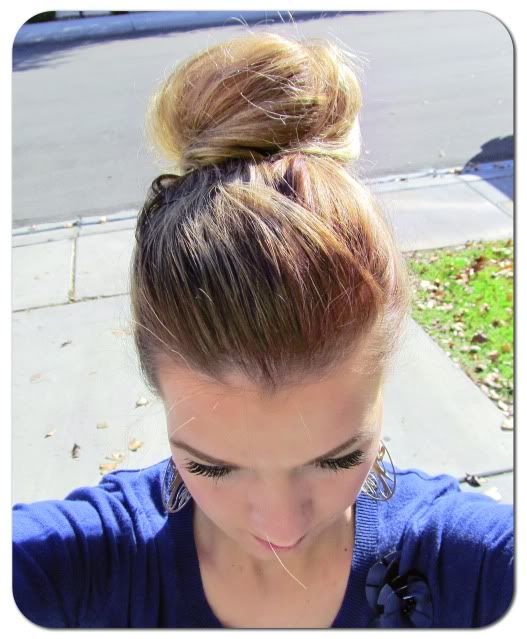 I'm surprised that with just a few makeup tricks and finishing touches, I look surprisingly put together. In fact, I've been receiving compliements on my "top-knot" all day!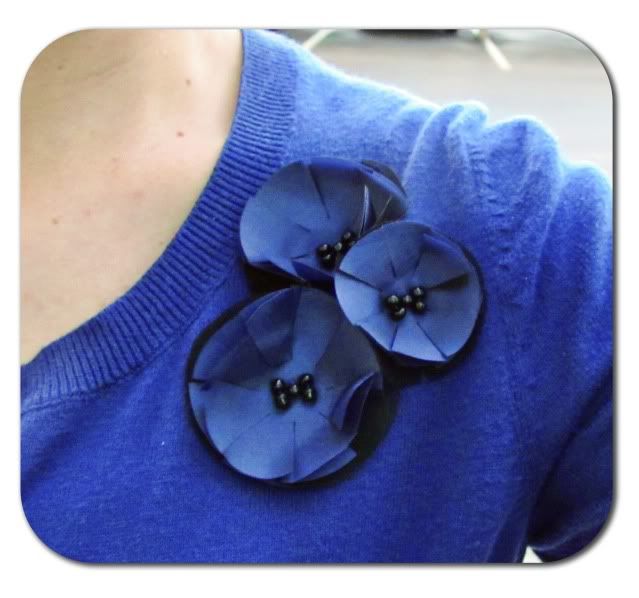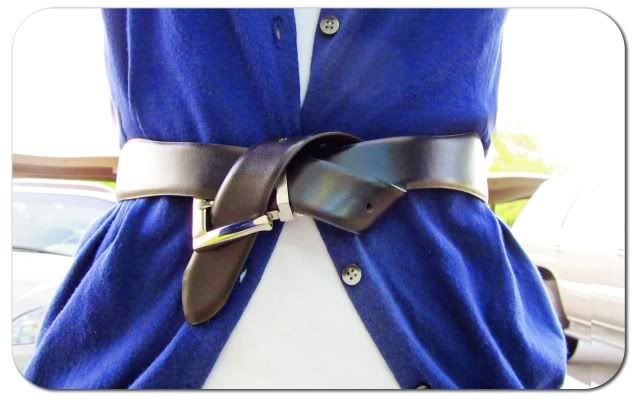 What do you wear when you've got to get ready in a hurry? Tell me in the comments.
(Closed)
PS. I have a little give away. If anyone is interested:
1. You must follow this blog,
Click here
if you aren't following yet.
2. Leave a comment, and include your e-mail address.
Happy Humpday!