Does anyone else follow
Our Best Bites
? I have been a follower of this
cooking blog
for years and I love everything about it! These girls make the
yummiest
stuff that not only will I eat, but that I can actually cook too! Not only are they so clever - especially around holidays - with food and treat recipes, the photography of the food on the blog rivals that of most
ACTUAL
Photographers (
including mine
).
While I have been playing
domestic goddess
, this week, and cooking up a storm (
seriously, you should be so lucky to be invited over to dinner this week
!), I am still a newbie when it comes to cooking. I like fast, to the point, filling,
delicious
recipes, and OBB delivers! I had questions answered about substitutions, equivalents, etc. Because these ladies are busy moms, most of the ingredients they use are kid friendly, and are things we have had laying around the pantry. In the past 3 days, I have prepared 3 dinners, complete with sides and have made two trips to the grocery store - totaling $5.72 - to get "
Oh I need that but don't have it
" items.
So... Imagine my excitement when I heard that there is an Our Best Bites cookbook coming out! I stole some photos from their site for your
viewing pleasure
. You can now
pre-order
through Deseret Book, $21.00, but if you use code
BESTBITES
at checkout you will get 15% off!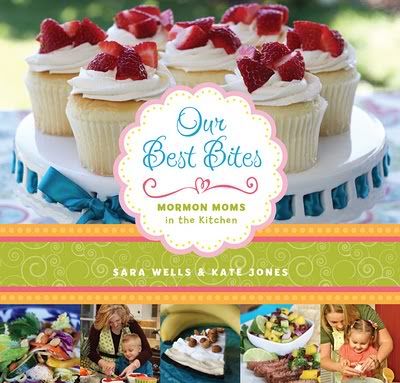 Look at how gorgeous that picture is!
Full page photos throughout!
Helpful info for newbies like me!